The Maher Law Firm Announces New Shareholder
The Maher Law Firm is very pleased to announce we have taken on a new partner/shareholder, Geoffrey T. Moore. There is no one more fitting to join our firm in this capacity than Geoff. Though he has been a part of our firm family since 2011, this new partnership is a tangible and outward announcement of Geoff's hard work, abilities and dedication to the firm.
Call Us 24 Hours a Day at 407-839-0866 or Fill Out The Form Below to Schedule Your Free Consultation
"The culture at The Maher Law Firm dictates that we come together as a team to produce the best results possible for our clients," said Geoff Moore. "As a lawyer and now shareholder, I look forward to continuing and contributing to this culture. At The Maher Law Firm, we focus our efforts on maximizing recoveries for each client. We take great pride in representing and developing relationships with each of our clients, who most often come to us during the darkest days of their lives. There is no better sense of accomplishment than a satisfied client who feels that their voice has been heard, so that's what we strive for on a daily basis."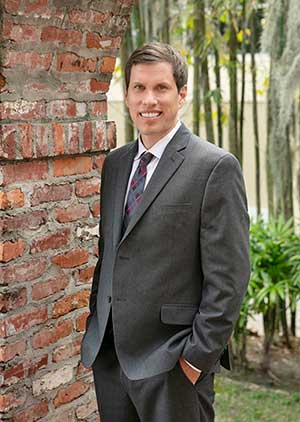 Geoff's list of accolades is long. Among them, he has been selected for inclusion on the Super Lawyers® Rising Stars℠ list from 2018 through 2020, an honor limited to 2.5 percent of the lawyers in the state of Florida. Additionally, for the past two years, Geoff has been selected to the National Trial Lawyers Top 40 under 40, an invitation-only organization extended exclusively to trial lawyers practicing civil plaintiff litigation or criminal defense litigation.
Among his recent legal victories, Geoff tried a case in Sarasota County involving an auto injury where the jury awarded $3,455,363. Another case involved a partial fingertip amputation in Orange County where the jury awarded $200,000. He was also recently a member of a trial team that received a $1.1 million verdict in a nursing home negligence case.
"Geoff is a natural fit to our legal team," said shareholder Jason Fraxedas. "He's smart, thorough and always goes the extra mile for his clients. Not only is he a friend and devout family man, Geoff is a lifelong athlete—teamwork and competitiveness come naturally to him. Both are valuable mindsets in this line of work. The firm and our clients are served well with Geoff on board."
Initially from Chicago, he is a lifelong Bulls fan and enjoys hitting the courts for a pick-up game at the local YMCA in his spare time. He also loves running and will be competing in his third marathon later this year (Covid-19 permitting). He and his wife, Ashley, enjoy traveling, and welcomed their first child, Charlie, in February of 2019.
"When I first started at The Maher Law Firm, what immediately stood out to me were the people who worked there. From top to bottom, each employee at the firm is committed to the mission: bringing a sense of justice to our clients who have had something dear to them taken away due to the negligence of someone else. Some of our employees have worked here for decades. After being at the firm since 2011, I know why people don't want to leave."
The Maher Law Firm was founded in 1969 by Michael C. Maher, leader of the trial team that negotiated a settlement of $11.3 billion in a lawsuit brought by the State of Florida v. Big Tobacco. The firm, which specializes in car accidents, medical malpractice, products liability, class action litigation, dangerous drugs, defective medical devices, and more, is located in Winter Park, Fla., and can be reached at 407-839-0866.