New Florida Law Aims to Minimize Car Accidents Caused By Texting While Driving
In Florida, you can now be pulled over and ticketed for texting while driving. A new law that just went into effect July 1, about 2 weeks ago, makes this incredibly dangerous—and unfortunately, wildly pervasive—infraction a primary offense.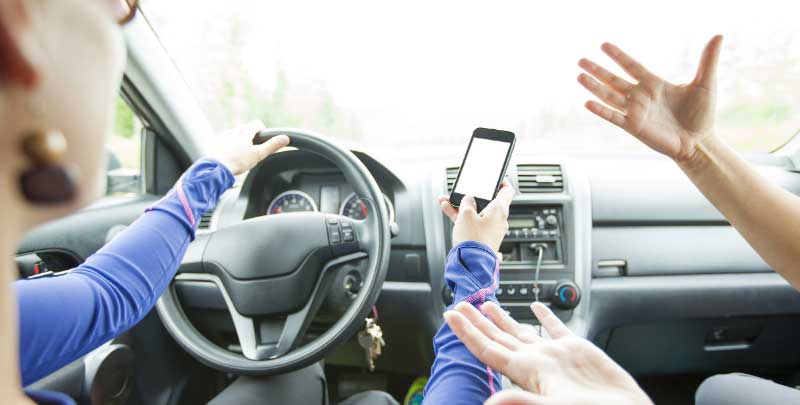 Call Us 24 Hours a Day at 407-839-0866 or Fill Out The Form Below to Schedule Your Free Consultation
Until now, police officers could not pull a driver over for texting while driving. The driver would have to be pulled over for a different infraction first and could then be cited for texting behind the wheel.
"This law makes Florida roads safer, and I am proud to give law enforcement the ability to more proactively enforce safe driving," said Governor Ron DeSantis. "Texting and driving is one of the most dangerous driving behaviors and it is every driver's responsibility to help ensure we all get home safely."
CAR ACCIDENTS: BY THE NUMBERS
It's estimated that 1.5 million car accidents happened in 2018 because of cell phone use while driving. A whopping 25 percent of all car accidents are attributed to texting while driving—that means 400,000 physical injuries every year. Car accidents increased 11 percent from 2013 to 2016, but car accidents due to careless driving rose by four times that amount. Needless to say, texting while driving is one of the most dangerous things we can do.
Maybe the scariest statistic—texting while driving causes 5 times more car accidents than drunk driving. A single text message causes the driver to look away from the road for an average of 5 seconds. That means, a car traveling at 55 mph will travel the length of a football field while the driver is not looking at the road.
According to the CDC, there are 3 types of driving distractions: visual (a distraction that diverts your eyes from the road), manual (something that causes you to take your hands off the wheel) and cognitive (anything that takes your mental focus off the road). Texting while driving combines all 3 types of driving distractions at once, deeming it the most dangerous type of driving distractions.
THE PRICE OF TEXTING WHILE DRIVING
In addition to an increased risk of car accidents, texting while driving now comes with a monetary cost. Under the new Florida law, if a police officer finds you texting while driving, you'll be cited a $30 fine for the first offense plus court costs. The fine goes up to $60 for the second violation and comes with a moving violation and 3 points on your license.
WHAT SHOULD I DO IF I'M INVOLVED IN A TEXTING WHILE DRIVING CAR ACCIDENT?
Our Maher Law Firm attorneys are some of the top car accident attorneys in Florida—and the country. We have helped car accident victims for more than 50 years and have earned a reputation for being thorough, empathic, intelligent and ruthless in our endeavor to right a car accident wrong.
The first thing to do if you're involved in a texting-while-driving car accident is to seek medical care and alert police. Our attorneys advise to not move your vehicle after an accident unless you are in an unsafe area. Also good advice—even if you aren't in pain, you should seek medical attention because injuries have a tendency to not show up until days after a car crash.
Next, be sure to collect information at the scene of the car accident, including license plates of cars involved, insurance information of the other drivers and see if there are any witnesses. If so, it's a good idea to collect witness contact information, in case any fact disputes come up later.
Then please contact us at the Maher Law Firm before discussing anything with your insurance agency or anyone else. We can walk you through your rights as a victim of an auto accident and help you navigate the confusing waters that can flood you after a car crash.
We're here to help. Please call us at 407-839-0866