How Cell Phones Play a Role in Orlando Car Accidents
If you were hurt in an Orlando Car Accident when someone was using their cell phone, you have rights to potential compensation for your injuries.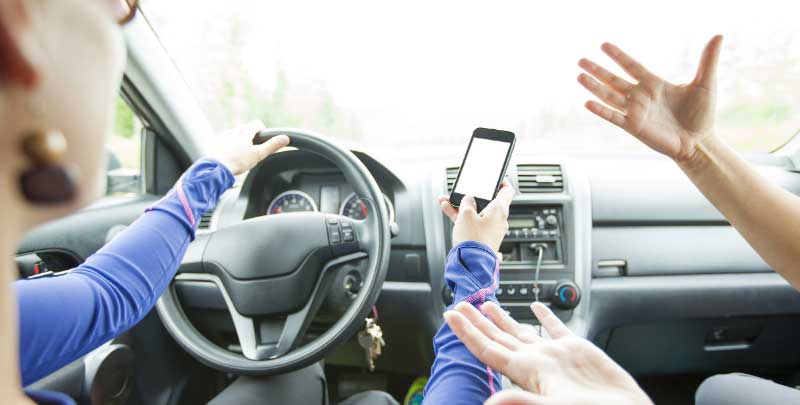 Call Us 24 Hours a Day at 407-839-0866 or Fill Out The Form Below to Schedule Your Free Consultation
Distracted driving is one of the leading causes of Orlando car accidents. While Florida has increased laws on cell phone usage while driving, many people are still able to communicate legally with others on their mobile device while behind the wheel. Smartphones have added a new element to cell phones, as many people stream music while behind the wheel, which can lead to more distraction.
Cell phones usage is a common distraction that can cause an auto accident in Florida. When this happens, the driver who used their cell phone may be liable to pay for your injuries and property damage. This generally requires that you prove that the person was using their cell phone, which can be difficult. Here are some examples of careless cell phone usage that could be used to prove negligence in your claim.
Driving with only one hand on the steering wheel while holding the cell phone in the other.
Taking eyes off the road to dial a number or send a text message
Becoming emotionally distracted because of the conversation being held on the cell phone and failing to pay adequate attention to surroundings
Employees doing business while on cell phones because they are worried of reprehension if they are unable to respond immediately
There are a number of ways smartphones are used while driving, and every one of them can be the cause of an Orlando accident. If you were hurt in a collision because someone was using his cell phone, you may need guidance from an Orlando Car Accident Attorney.
Do You Think Your Orlando Car Accident Was Caused by a Distracted Driver?
The legal team at The Maher Law Firm can help you investigate and prove that the cell phone usage made the other person negligent so that you can strengthen your claim and get the settlement you deserve.